Ok, lets talk pregnancy for just a minute! I have been miserable for what feels like a lifetime already and once I hit 13 weeks everyone kept telling me that I would be feeling better soon….soon?! Imagine my hormonal response inside my head to every one who said this to me – not a good one to say the least. Well, the good news is that I woke up two weekends ago (15 weeks!) and when I opened my eyes I actually felt normal, you know…without nausea! The even better news is that it lasted all day and throughout the week – YEE HA! Since then I've continued to feel so much better, thank the good Lord!
I've been sharing with you some of my favorite pregnancy products and I remember when I finally got preggo Jennie told me if there was anything worth getting it was the Mama Mio Tummy Rub Stretch Mark Oil ($35) and the Tummy Rub Stretch Mark Butter($35). She used it during both of her pregnancies and raved about it! I was so excited to try it out and love it for different reasons than other products I've tried. They recommend using the oil first and then the butter on top of the oil.
I really do like the subtle scent of both of these products but I can't tell you how much I love the Tummy Butter. It feels amazing to use, it's thicker and creamier than a regular lotion which makes it feel SO luxurious! The oil is also great, although I do prefer a spray nozzle on the bottle so it's a little easier to apply straight to my skin and rub it in but all in all the products I've tried absolutely live up to their name.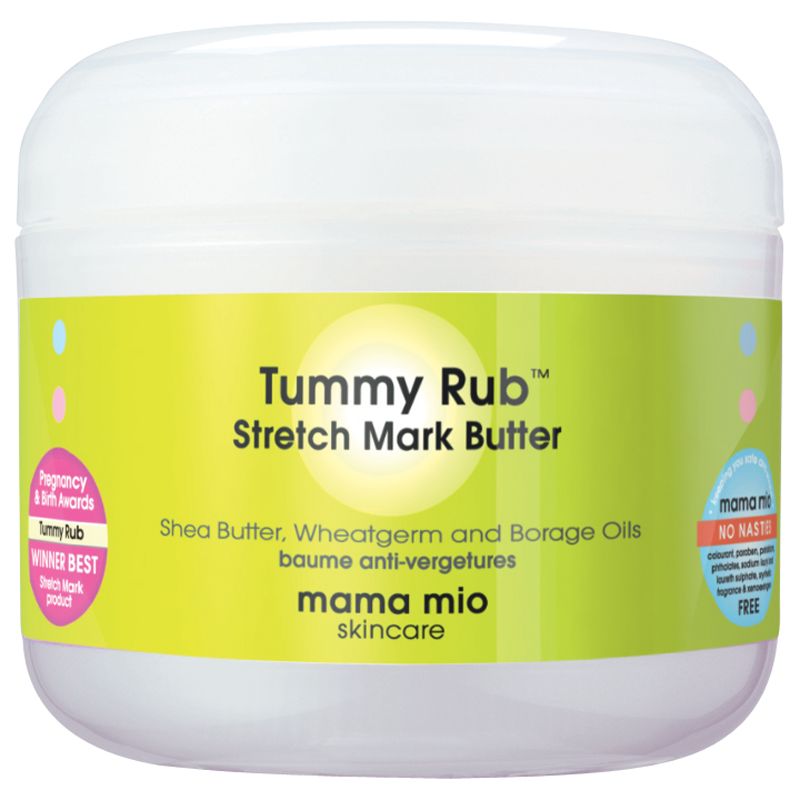 Every ingredient in Mama Mio Tummy Rub Stretch Mark Oil has a distinct moisturising purpose and is laden with Omega 3, 6 and 9 – superfood for the skin. Our Tummy Rub Stretch Mark Oil is a perfectly balanced blend of four oils:

Sweet Almond Oil is rich in all important omegas and very nourishing. It is highly moisturising and quickly absorbed, leaving a soft sheen on the skin with no residue.

Borage Oil is an ancient oil used in the Far East for thousands of years, it's one of the richest sources of Essential Fatty Acids omegas, specifically gamma-linolenic acid (rich in omega 6) is very effective in healing damaged skin. Borage Oil is wonderfully moisturising and very active as it is quickly recognised and utilised by the skin.

Wheatgerm Oil is rich in Vitamin E and is amazingly healing and nourishing to the skin. In addition Vitamin E is useful for its role as a powerful anti-oxidant, soaking up free radicals (so that's anti-aging) and helping those superfoods get on with their vital work.

Rosehip Seed Oil is very rich in Omega 3 and 6, which are beneficial for the treatment of damaged and distressed skin by providing intense moisturisation. This oil has the added benefit of naturally occurring trans-retinoic acid (think benefits of retin–A but without side effects) which is very helpful in preventing stretch marks.

Gravida is our amazing essential oil fragrance; a blend of 10 pregnancy-safe, pregnancy-specific natural oils which smells gorgeous to even the most sensitive of noses.

-mamamio.com
If you're preggo and want to guard against stretch marks – here's your answer! They are a great brand and after using the products for the last 6 weeks, I would highly recommend both the Butter and Oil! Check out all the awards they've won for their products HERE. And that's not all…they also have a fantastic range of products for all your skin care needs such as:
Bust and Neck Firmer
Lucky Legs Cooling Serum
Waist Body Shaper
Cellulite Cream
Bootcamp 30 Day System (for Arms, Tummies, Butts and Boobs!)
C-Section Repair
These are just a few of their products, head over to their website for a full list of products they offer. You can also purchase them online or at a store near you, to search click HERE. If you're local to Cincinnati, the only place I know of is Becoming Mom in Deerfield.